Zac Gibson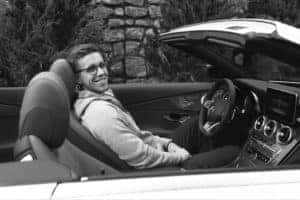 Who are the people on 734 Envious Lane? Installment #4.
November 21, 2017
This week we are featuring one of our Sales Associates, Zac Gibson. We asked Zac a series of questions.-If you could be any fictional character, who would you be and why?
Z: Indiana Jones, the action and adventure of this classic character
is amazing! Who doesn't want to go treasure hunting throughout the
world with almost unending knowledge of this worlds history?

-Any cool places around Nashville?
Z: I love Nashville, but if there is somewhere I would want to go
back to in Tennesee it would be the Smokey Mountains.

-Which holiday are you looking forward to most coming up soon?
Z: I can't wait for Christmas to be here! It is such a great holiday,
and time of the year.

-In your opinion, what is the best deal on our lot right now?
Z: Right now our C-Class has some incredible leasing incentives. If I
were to get into a new vehicle it would be a loaded out C 300. Great
value, performance and safety!

-What sets Mercedes-Benz apart from other brands?
Z:There isn't another Automotive Brand I'd rather work for.
Mercedes- Benz has the most fascinating history, and they set the
benchmark when it comes to almost anything in industry.