Your Guide To Choosing the Right Mercedes-Benz SUV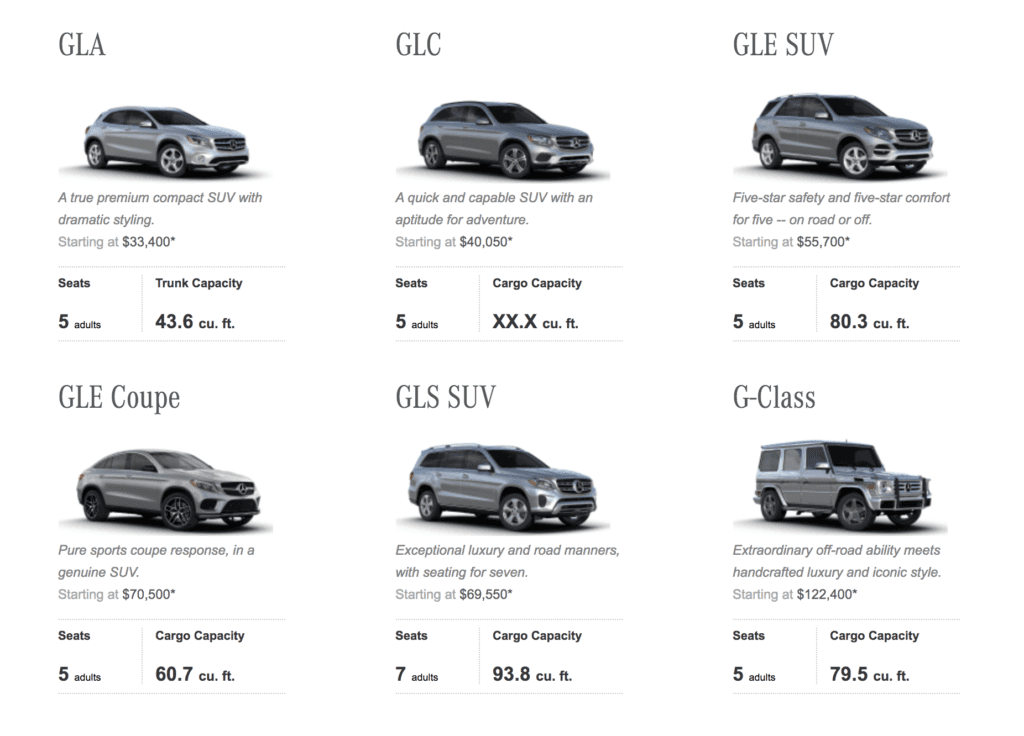 Why do we love SUVs so much? While some may like their increased seating capacity, others might enjoy the bulkier presence on the road.
Mercedes-Benz offers a full line of SUVs like no other; if you need comfort, luxury, performance and style combined with outstanding features, then look no further.
In short, every Mercedes-Benz SUV is a carefully crafted and luxuriously packaged vehicle built for safety, comfort, and efficiency.
This guide highlights the features of four groups of SUVs – both full-size and compact – but with standard features such as a powerful engine, smooth transmission, etc.
Nearly all of them contain the Mercedes-Benz highly-respected 4MATIC® all-wheel drive (AWD) system, and most models are offered with diesel engines.
Let's dive in.
The GLS
Formerly known as Mercedes-Benz GLS, this is their largest and most luxurious SUV with more comfort and space.
The first generation models like the AMG® GL 450 and AMG® GL 550 had large V8 engines while the second generation brought bigger SUVs overall, with smaller, turbocharged engines for increased fuel efficiency.
Mercedes-Benz is all set to launch the third generation of the GLS, promising a greater degree of innovation and driving comfort.
The third generation will feature two highly awaited hybrid powertrain models, namely the AMG® GLS 450 and AMG® GLS 580.
The AMG® GLS 580 offers more horsepower compared to the AMG® GLS 450 featuring 483 HP with an electric motor and twin-turbocharged V-8. Contrastingly, the latter only produces 362 HP with a 3.0 liter engine combined with an electric motor.
In addition to its powerful engine, the third generation models offer a greater degree of driving comfort over harsh terrains.
While both models come with a standard air suspension system, Mercedes-Benz offers an optional smart system known as E-Active Body Control that self-adjusts the suspension by utilizing a front-facing camera to detect road conditions. This amazing new-tech comes at an additional cost, but it's well worth it..
Nonetheless, the standard air suspension system also does an excellent job of providing driver comfort over a rugged terrain.
Mercedes-Benz has also placed special emphasis on improving the interior as compared to the previous models. The new models come with two 12.3-inch display systems that occupy the dashboard. The cabin can luxuriously seat 7 people with a good enough space in the third row, an improvement over it's main competitor, the BMW X7.
All GLS models come with an all-wheel-drive system and can tow up to 7,500 pounds with the right equipment – and the third generation is no different.
The GLE
The first generation of these mid-size SUVs was launched in 1970 and featured a truck-like exterior.
The year 2006 marked the launch of the second generation of the GLE , when Mercedes-Benz decided to adopt a unibody design that significantly improved handling and comfort.
The third generation, introduced in 2012, featured models with reduced seating capacity – the third row was removed – and limited space for luggage.
Mercedes-Benz is all set to launch GLE 580 – a new variant adding to the already brilliant GLE.
The GLE 580 will feature an impressive twin-turbo 4.0 liter V8 engine with a 48 volt system. It will be the most powerful non-AMG®® model offering 504 HP.
In terms of ride comfort, the last two generation models are similar to an E-Class sedan. Seats are firm and comfortable, and all materials used apart from leather fittings are standard.
Additionally, the new model will feature a dual 12.3-inch display system to stretch across the dashboard. The self-heating front seats and armrests are some of the many luxury options that this variant promises.
Most of these models come with AWD, except for AMG® ML 350; this model has a powerful engine with a towing capacity of 7,000 pounds and the right amount of ground clearance required for rough terrains.
The GLC
Mercedes-Benz started making these compact SUVs in 2010; previously called the GLK, these variants were small, easy to park and maneuver with standard seating. They could easily fit in four people with limited space for cargo and legroom.
In 2003, these SUVs were re-styled to be sleeker – while the exterior was more subtle with a refined look, the interior also got some changes in material and design.
The GLK was replaced by GLC in 2016 and featured a number of changes. This new variant was both wider and longer than its previous versions with improved legroom for passengers and a more streamlined exterior.
The 2020 model will offer new improvements in interior, exterior and performance.
All-new hybrid models have a bigger battery specially enhanced to provide greater torque, while the gasoline ones feature a new 4-cylinder turbocharged engine adding an extra 14 HP.
The exterior is tweaked to be more subtle with new grille, taillights and some rear-end changes. The new MBUX infotainment system and the latest 12.3-inch digital gauge cluster are included in the interior.
With a towing capacity of 4,850 pounds, the GLC is a powerful compact variant by Mercedes-Benz that closely resembles the C sedan in terms of ride and build.
The GLA
Introduced in 2015, the GLAs are a stockier, more compressed version of the GLC compact SUV. They can easily seat four people with ample legroom and decent luggage capacity which can be further increased if you fold the back seats.
It provides better visibility through elevated seating; however, the sloping roof restricts the back view.
The GLA is available in two models; the AMG® GLA 250 that comes with a four-cylinder engine and the AMG® GLA 45 that has the same engine as the AMG® GLA 250, but with more power. The first variant also comes with an optional AWD system while it is standard in the latter.
With its turbocharged 2.0 liter engine, the AMG® GLA 250 provides 208 HP. Although this may not seem much, the 250 is fairly fast compared to its competition due to its efficient powertrain.
Overall, the interior of AMG® GLA 250 is stylishly designed as you can expect from a Mercedes-Benz.
Interestingly, the gear lever on this variant is mounted next to the steering wheel which leaves ample room between the driver and the front passenger.
The AMG® GLA 250 is equipped with a 8.0-inch display – standard for all variants. Features like navigation, onboard Wi-Fi and Apple CarPlay are optional.
The G-Class
The first-gen G-Class is an all-wheel-drive luxury SUV, commonly known as the AMG® G-Wagen due to its box-like style and body-on-frame build. Introduced in 1979, this model is also one of the longest-serving vehicles in the history of Mercedes-Benz.
The all-new AMG® G 63 comes with a 4.0-litre twin-turbocharged V8 and a nine-speed automatic transmission with 5 modes for driving on roads and 3 for off-roading. The V8 engine generates an impressive 577 HP and can shoot from zero to 60 m/h in mere 3.9 seconds.
The interior of the G-Class also exhibits the same ultra-high standards set by Mercedes-Benz.
A perfect blend of latest gadgetry and first-class materials, the AMG® G 63 offers a dual display of 12.3 inches allowing various user-configurations. Also, the improved design reduces noise and vibration compared to the previous versions.
Endnote
Overall, Mercedes-Benz SUVs are premium vehicles that perfectly blend power and performance with beautiful interiors and sleek exteriors.