Xavier Darden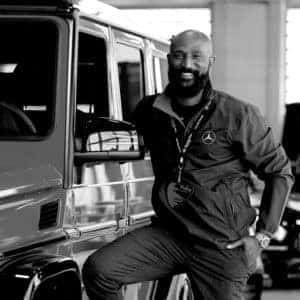 January 30th, 2018
Everyone, meet Xavier Darden, one of our sales associates here at Mercedes-Benz of Music City! We asked Xavier a series of questions:
-In high school, everyone wanted to be like ______ from the television show _______.
X: Will Smith / The Fresh Prince of Bel-Air
-What was your favorite sport growing up?
X: Football, baby!!! Football is still my fav sport and always will be.
-Tell us about your first Mercedes-Benz.
X: My first Mercedes-Benz was a 2001 C 240. It was black on black with the RARE Manual stick shift. I drove to Atlanta Georgia to get her. I named her the "Black Diamond".
?
When I parked her in my drive way, I knew I would always own a Mercedes-Benz- I could never go back.
-Which one of Mercedes-Benz's optional features do you encourage customers to add-on?
X: The optional feature I encourage all customers to add-on is the "4matic" drivetrain. In short, this is Mercedes-Benz's version of all-wheel drive. With this option, there is a very slim chance you will ever lose control of your vehicle. In addition, this option gives clients added safety and peace of mind, no matter the weather conditions. Rain, Sleet or Snow you'll be covered.
-What are your top three priorities when purchasing a car?
X: My top 3 priorities when buying a vehicle are as follows:
1st is this a vehicle that looks sporty and cool.
2nd Does this vehicle meet my current needs.
Last will she go fast!!!!!!!!!!!!!! I Wanna go fast!!!! ~ Ricky Bobby "Shake and Bake"
#MBOFMC
#TeamMemberTuesday