Will Ferguson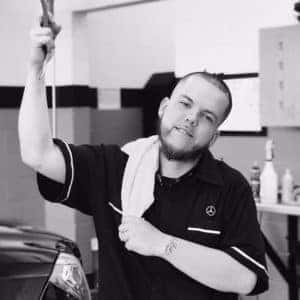 It's our favorite day of the week, which means we get to interview another one of our staff members- Will Ferguson!
Not many customers will have the opportunity to meet Will personally while getting their Mercedes-Benz detailed, so we decided it was time for MB of MC guests to get to know a bit about Will! Happy Team Member Tuesday!
-What's some insider knowledge that only people in your line of work have?
W: There are plenty of tips and suggestions I would give our customers. Before using a new chemical, always spot test before using on your upholstery.
Also, I recommend at least one professional detail a year to increase the longevity of paint and interior of car.
-What are some of the best vacations you've had?
W: Florida is always a fun time! …From Orlando, checking out Universal Studios and Disney World or driving 14 hours to Miami to escape the Nashville snow!
-What brand are you most loyal to?
W: As a Blu-Ray movie collector, I would have to say Marvel-Studios, I've seen and or own everyone that's out. Wakanda forever!!!!
-What did you Google last?
W: Cheap flights To Dubai, I will be visiting next year
?
?
?.
-What's the funniest thing you've seen a kid do?
W: While going through pictures on my phone, I noticed one night when I was asleep that my daughter had a full-blown photo shoot and didn't delete a single photo!
I still have them 4 years later lol!