Which of the New Mercedes-Benz Models is the Safest?
Safety-conscious Mercedes-Benz lovers will be excited by the safety features on the 2019 vehicle line up. Each of these cars is designed to provide unparalleled levels of 21st Century safety. We've rated the new models on their safety features to help you make the best choice for your family. Here they are, from the fewest number of safety features to the greatest. Because driver error is really the biggest danger on the road, we've given particular weight to systems which address driver errors.
#3) The 2019 Mercedes-Benz AMG® C-Class Sedan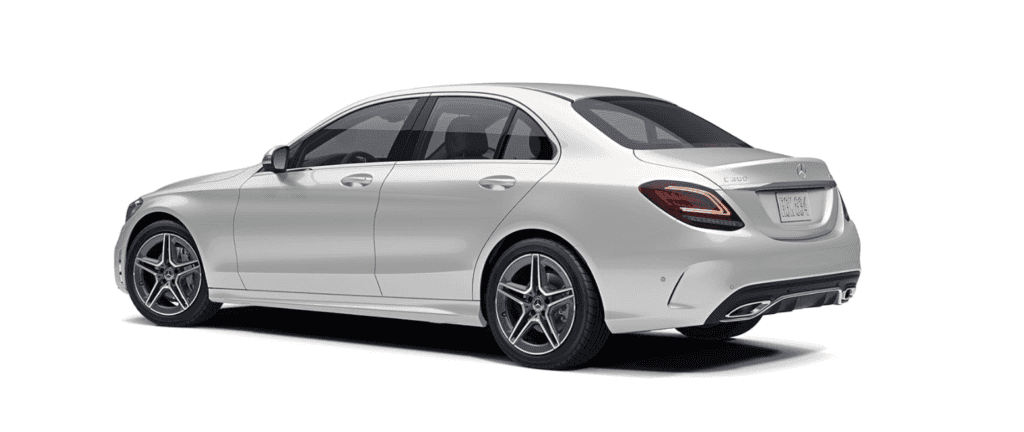 As you might expect, everything about this sedan radiates class. It's gorgeous, so safety may fly right out of your head when you look at it, but that's ok. The car is nevertheless well-equipped to handle many of the most common mistakes drivers make.
5 systems on this car are designed to help correct human errors.

Evasive Steer Assist – The car realizes when you're trying to avoid danger, and automatically adjusts steering power to give you your best chance of completing the maneuver.
Lane Keeping – Starting to drift out of your lane? The car will warn you, and will automatically make corrections.
Parking Assistance – Tight parking spots aren't a problem anymore. You can just let the AI take over until you're safely in your spot.
PRESAFE® Plus – This feature figures out when a collision is inevitable. It engages the brakes and tightens the seatbelts to minimize injuries.
Intelligent Headlights – Ever forget to turn off your brights? Or turn them off a little too late? The intelligent headlight system will turn them off and on for you, and the wide-beamed headlights are powerful enough that you often won't need them. The other drivers on the road will appreciate not being blinded, making the drive a little safer not just for you, but for everyone else, too.
One system on this car improves visibility. That would be the surround-view camera and radar system, which can see up to 1,640 ft. ahead of you and which can keep track of what's around you on all sides. No more quick, frantic looks over your shoulder to check your blind spot.
The car also has standard safety features (airbags and seatbelts). Finally, it's got the "Vehicle Locator." That's not strictly a safety system, but it will tell you where your car is if it has been stolen. Or if you forgot where you parked.
#2) The 2019 Mercedes-Benz AMG® GT 4-Door Coupe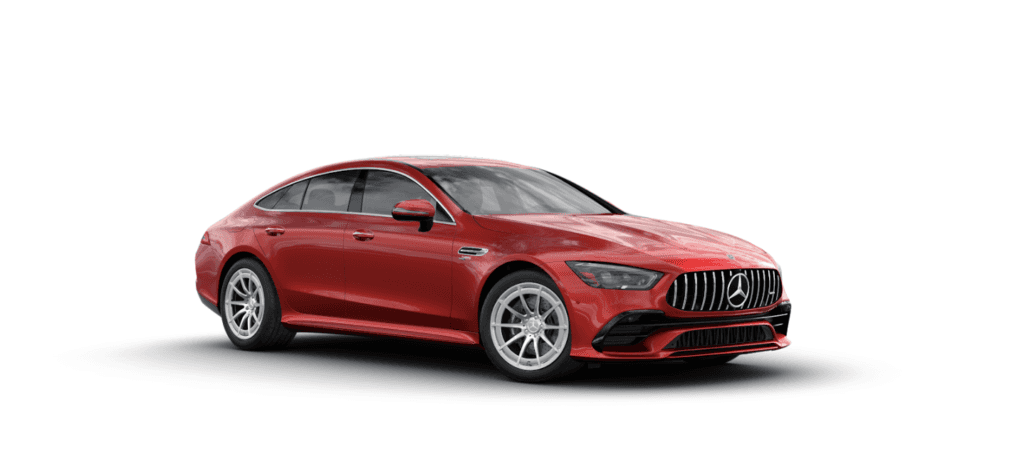 This car isn't really meant to appeal to the safety-conscious drivers of the world. It's a racer, designed to appeal to your need for speed. Run a search for this vehicle, and you'll see a lot more "BRUTAL Race Reviews(!)" than safety articles.
And yet this car is loaded with enough safety features to satisfy even the most conservative drivers. 
10 Systems on this car are designed to help correct human errors.

Car-to-X communication. Mercedes-Benz envisions a future where all cars use WiFi to talk to each other. They're starting now. It can tell you when there's an accident ahead, and it can warn you about various other dangers. 
Active Brake Assist – Detects when a collision is likely and adjust to provide an appropriate level of breaking to either prevent the problem or minimize it. If you don't respond it initiates braking automatically. It can detect and react to pedestrians, too. Just don't take this as license to text and drive.
ATTENTION ASSIST® – Falling asleep at the wheel? The car will detect it and give you an alert to wake you back up. If the system thinks you were tired when you started the journey it will start giving you all kinds of information to keep you awake, alert, and aware.
Intelligent Headlights 
Crosswind Assist – If you're driving through high winds the vehicle will adjust to minimize the impact of the gusts.
Blind Spot Assist – Stop twisting around: this car watches your blind spot for you using radar. If a car is in your blind spot you'll see a caution side on the side-view mirror.
PRESAFE® 
PRESAFE® Sound – You probably don't think much about how a wreck might impact your hearing. But Mercedes-Benz did. This system emits "pink noise" when it detects a collision to help you shut out loud noises.
Electronic Stability Program (ESP®) – Detects the direction you're going in and corrects to prevent understeering, oversteering, and other maneuver mistakes.
Tire Pressure Monitoring – Eliminates the mystery of the "check tire light." You know the one; where it comes on but you can't see anything wrong with your wheels. You'll get a display which tells you exactly how much pressure is in each tire.
The other safety features are pretty standard. Airbags, anti-lock brakes, anti-theft alarm, and an emergency call service. There are also some that don't seem that important, like the rain-sensing windshield wipers. It's nice that they adjust in response to rainfall, but for many this will be a solution for a problem they never had in the first place. 
All in all, it's an impressive lineup. And you can add 16 other optional safety features if you wish.
#1) The 2019 Mercedes-Benz AMG® G 63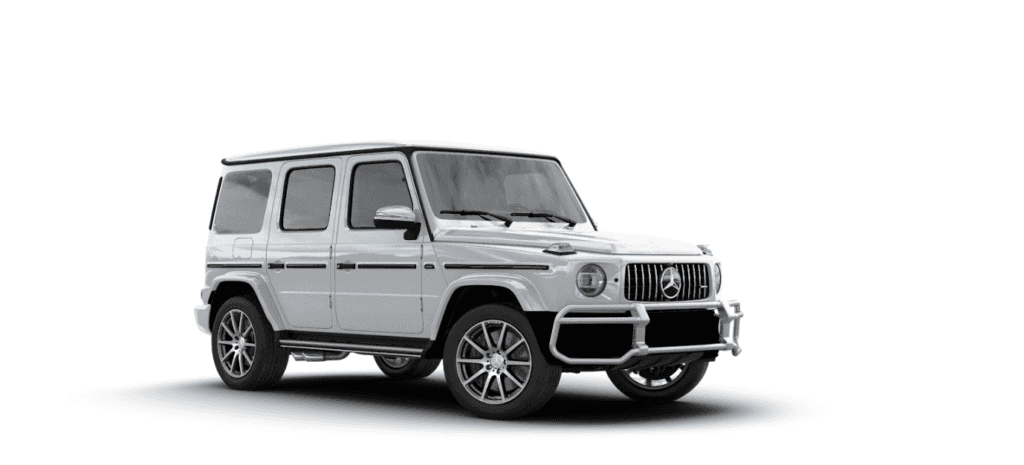 The AMG® G 63 SUV has added airbags in every conceivable place. Front airbags, side airbags, overhead airbags…knee airbags? The pillow power here seems just a little extra, but there's no denying you're going to be well-cushioned during a crash.
This vehicle is also equipped with pretensioners which automatically tighten seat belts during a collision, and anti-whiplash head restraints. 
This car has 12 systems to address driver error.

Active Brake Assist
ATTENTION ASSIST®
Active Distance Assist – Uses radar to adjust your speed in response to the flow of traffic. 
Traffic Sign Assist – Did you miss that speed limit sign? Your SUV will read them for you and tell you how to adjust your speed. It can tell you about all other road signs, too.
Blind Spot Assist 
Lane Keeping Assist
Parking Assist 
Rear Cross-Traffic Alerts – Highly useful when backing out of parking places. It will tell you if a car is coming up behind you.
PRESAFE®
PRESAFE® Sound
Tire Pressure Monitoring
Illuminated Entry/Exit System – When you unlock your car it will turn on exterior lights to give you a clear path to your vehicle. You can also program it to leave the lights on for a certain amount of time after you leave.
There's only one optional safety feature: the surround view system, which gives you four camera directions to help you see all around your vehicle as you park the car. But with so many other safety features, the lack of additional options doesn't seem like much of a problem.
Finally, this vehicle has standard safety features like rearview cameras and anti-lock brakes. Like the AMG® GT 4-door it has also opted for automated windshield wipers in the front and back of the vehicle. And, of course, the vehicle's big, sturdy SUV body will add additional protection that smaller cars can't match.

Test Drive Them Anyway
Before you choose the AMG® G 63, remember: the safest car is the one you're most comfortable in. If you find some systems distracting or have trouble managing and maneuvering a large vehicle then the two extra safety features and extra airbags aren't a big enough plus to make up for the fact that you aren't compatible with the car.
The best safety features are also the ones you'll use and pay attention to. If you find yourself ignoring or tuning out a system then that one might not be a big priority for you.
Some of these cars opted for more systems while choosing less sophisticated ones. The combination camera and radar system on the Class C Sedan seems to be a lot more advanced than the surround view system on the AMG® G 63, for example. It's not clear why they didn't just use the stronger system on all three cars, but it's important to compare apples-to-apples when you make your purchase.
Still, all these smart-assist features make any of these vehicles a good choice, especially when you consider the fact that they've been coupled with Mercedes-Benz craftsmanship. Any of these cars will be far safer than most of the vehicles on the road. Ultimately, you can choose the one you love guilt-free.