Tom Colley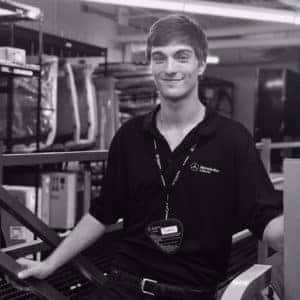 Who are the people at 734 Envious Lane?
This week on #TeamMemberTuesday, we got chance to get to know last week's Culture Coin Winner, Tom Colley!
-What is your favorite summer acitivity?
T: My favorite summer activity is definitely wrenching on my car.
-New cars or classic cars?
T: I've always been into classic cars more than new ones, but that has been changing since I started working here. My dream car is definitely an SLS AMG®.
-Who's your go-to band or artist when you can't decide on something to listen to?
T: If I can't decide on a song, I usually default to The Red Hot Chili Peppers or The Rolling Stones.
-What is one thing you would rate 10/10?
T: The Burgers and Spiked Milkshakes at Burger Republic are definitely a 10/10.
-What are you absolutely determined to do one day?
T: I am determined to see the Great Wall of China in person someday.