Ryan Demitrescu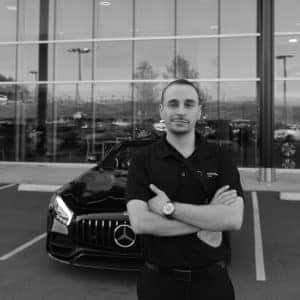 Everyone meet Ryan! Ryan is our loaner car manager. Ryan has a unforgettable, fun personality, and he will tell you that it's because he loves his work.
He enjoys working with our clients and making sure their needs are met when stopping in for a service appointment.
This week, we had the opportunity to get to know a bit more about Ryan and some of his favorite things…
-What's one thing some people consider a luxury but something you can't live without
R: A good cologne. I never leave the house without putting some on. YSL is my favorite
-If you could be a part of any TV show, which would it be?
R: Top Gear. They always seem to have some fun, crazy competition involving cars.
-Which would you pick: being world-class attractive, a genius or famous for doing something great?
R: Hmmm tough question.
As much as the vanity in me wants to say being world-class attractive, I would have to say doing something great but I wouldn't want to be famous because of it.
It makes me feel great to be able to do something nice for others and having that satisfaction of knowing I made someone's day is all I need.
-If you could run away from it all and start fresh somewhere new, would you?
R: Yes, in the beautiful Fort Lauderdale, Florida.
-What's your favorite way to waste time?
R:Ever since I was a little kid playing with hot wheels I was obsessed with cars. In my spare time I love going to car meets and shows.
-What is your favorite Mercedes-Benz?
R: As much as I love all the new products we offer I love the classic Mercedes-Benz. The first-generation S class sedan from the late 60's love the classic style I've owned two.
-What is the best part of working for Mercedes-Benz of Music City?
R: The best part of working for us is the amazing team and fellow management staff, who all come together to deliver the "The Best or Nothing" experience for our clients.
Each day at work is something new and exciting, and I truly enjoy getting to meet our awesome customers.