Roman Chortyk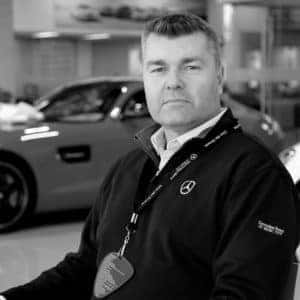 January 2, 2018
Who are the people at 734 Envious Lane?
Meet Roman Chortyk, our newest sales associate at Mercedes-Benz of Music City! Roman has been in the automotive industry for 20+ years. We asked him a series of questions…
What's a song that describes your work ethic?
Roman: Learning to Fly – Pink Floyd.
Top three movies from your childhood:
Roman: 1. Star Wars 2. Raiders of the Lost Ark 3. Blade Runner
What is at the top of your bucket list?
Roman: See the 7 Wonders of the World- especially the pyramids.
How long have you been with Mercedes-Benz?
Roman: The last 4 of my 20+ years in the automotive industry have been with Mercedes-Benz.
What struck your interest in cars, particularly Mercedes-Benz?
Roman: At first, I got into the car business just to hold me over between jobs – but then it became such a fun challenge – helping people get what they want. …Mercedes-Benz is such an iconic brand and the cars are so nice to drive with such a great racing history – especially Grand Prix and Formula One ( maybe driving one of those should be on my bucket list).
Roman Chortyk at Mercedes-Benz of Music City #TeamMemberTuesday