Moe Drennon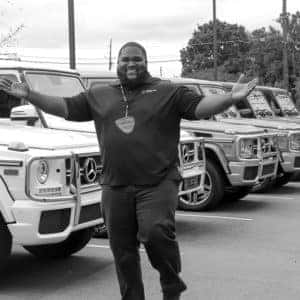 Happy Team Member Tuesday, everyone!
This week we had the pleasure of getting to know the ever-cheerful, Moe Drennon! Moe is our Warranty Administrator here at Mercedes-Benz of Music City.
Our customers don't get to see Moe on the front-end, but we can assure you, he's always hard at work for our customers! We're happy to get to know him today…
– What is your favorite hobby?
M: My favorite hobby is traveling to car shows/ racing events. From import, to domestic to old-schools. I personally have a 1970 Nova Super sport and also a Track Honda Civic ( EK Sedan ) as my toys.
-Most fun trip you've been on?
M:The most fun I've had on a trip was the first time I went snowboarding in Gatlinburg! Not to mention, but that was my first time snowboarding. Got stuck up on the slope and had to sit down on the snowboard and ride it down 'cause I kept falling every 10 feet! Gatlinburg, Tennessee is my favorite getaway trip for sure.
-What's one thing you'd like to see in person?
M: One thing I like to see in person one day is Japan. Japan has all kinds of different automotive enthusiast. Japanese classics, and American classics, and also todays famous imports. Japan has always inspired a lot of my cars, and one day I will make the trip there to visit in person!
-What's one crazy expensive thing that you would spend money on!?
M: That's easy! A Mercedes-Benz G 63 AMG® 6×6… It's the baddest of the baddest machines!