Kevin Taylor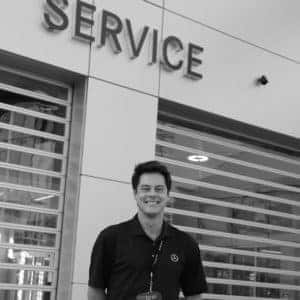 Happy Team Member Tuesday! This week, we have our first interview with one of our MB of MC Managers! Our Service Manager, Kevin Taylor, is constantly on the run.
Between his challenging schedule and ensuring "The Best or Nothing" service for our customers, we were very eager to get just a short Q&A session…
-Are you a morning person or a night owl?
K: I have always been a night owl until recently. Having to get up at 4:50 every morning to get to work has turned me into a morning person.
I never thought I would be falling asleep as the 10 o'clock news was coming on!
-My favorite meal is …
K: My favorite meal is most definitely dinner! I'm always rushed through breakfast and lunch and love to cook when there's time. I also love trying new restaurants.
-Do you have any interests that most people wouldn't expect?
K: I'm really a boring person when it comes to interests. I love working on my old cars whenever time allows.
Millie needs constant TLC with over a million miles on the odometer!
-Tell us a bit about your history with Mercedes-Benz.
K: I started with Mercedes in 1997 after meeting Cathy Ellis (former owner and operator of Atlanta Classic Cars) and have loved every day since.
I moved to Charleston, SC in 2000 to work with Baker Motor Company and moved back to the Nashville area in 2005.
I became a team leader in 2002, shop foreman in 2009, and service manager when we opened Mercedes Benz of Music City.
Being service manager is the biggest challenge I have ever faced, and I am thankful every day for Bill Hudson's patience while training me!
-What is the most rewarding part of being the Service Manager at Mercedes-Benz of Music City?
K: Without a doubt, the most rewarding part of being service manager for Mercedes Benz of Music City is hearing daily from our customers how thankful they are that we are here
and how happy they are with our service!!! Live the dream!!!
#MBofMC #Culture #TeamMemberTuesday