Kate Cardin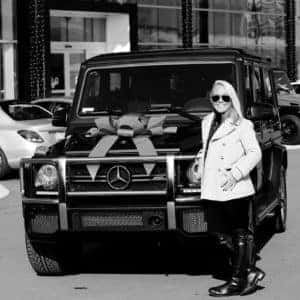 Who are the people at 734 Envious Lane?
December 19, 2017
This #TeamMemberTuesday we get to know about our Sales Associate, Kate! Our sales team members, along with our other wonderful employees work hard to make a Mercedes-Benz Holiday special!
It's the weekend before Christmas! What is your favorite Christmas Eve or Christmas Day tradition? 
Kate: Christmas Eve Cocktail hour at my parents house with all our friends stopping by – we take a group picture every year that's always fun to look back on.
Kate, you bought your first Mercedes-AMG® this year, a C 43 this year- what is your favorite part about driving an AMG®?
Kate: The performance exhaust system is my favorite part about my AMG®.
Have you made any special/meaningful Mercedes deliveries during the holiday season?
Kate: I'm helping a family from another state get a new Mercedes the day before Christmas eve, they want their family members in Nashville to get to be part of their experience. It's been great getting to know them over the phone and help be a part of their Christmas.
What's one special feature Mercedes-Benz drivers tell you they love about our cars the most? Versus other brands.
Kate: Safety and performance are the two biggest features that are most important to customers I've worked with.