Josh Cantrell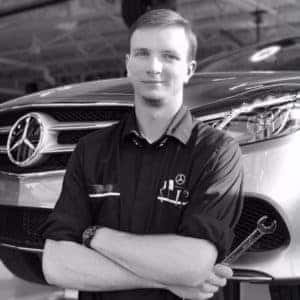 It's Team Member Tuesday! As you very well know, our technicians do a ton of work behind the scenes… but their work doesn't go without recognition!
This week, we felt a much-needed spotlight on one of our team members, Josh! We appreciate Josh for being so willing to do an interview with us today- thanks Josh!
-How would your friends describe you?
J: They would say that I'm always up for a challenge! I'm always up for working on the most unique vehicles!
-If you could be anywhere else right now, where would you be?
J: I would be out near the water during this nice weather- it's perfect for outdoor activities.
-What are some things that you enjoy on your day off?
J: I like relaxing and working on the upcoming projects I have planned.
-What is your favorite way to unwind?
J: I enjoy being outside, whether that meas taking a nice drive or hanging out by the lake or ocean.
-What do you enjoy most about being a technician?
J: The variety of vehicles I'm exposed to on a daily basis, and the diverse systems each of the vehicles have.