Jesse Ellis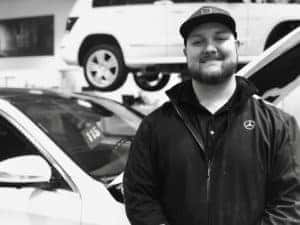 Happy Team Member Tuesday! Today, we had the opportunity to get to know Jesse Ellis, one of our Mercedes-Benz certified technicians! Jesse has been with Mercedes-Benz for two years and we are so happy to have him on our team.
-What is your dream Mercedes-Benz and why?
J: I'd love to have a 13-14 C 63, or a 14 GLK. I think the C 63 is one of the best driver's cars ever, and GLK are just all around great vehicles, especially having been built on the same platform as the 204 generation C class.
-What is your favorite sport to watch?
J: Football (Roll Tide!), or drifting. Formula Drift is always fun to watch and a very down-to-earth, spectator friendly sport.
-What holiday are you looking forward to most and why?
J: Christmas. Winter is my favorite season, and I love finding cool, personal gifts for my friends and family.
-What is a hobby you have that might surprise people?
J: I'm a musician, right after a gearhead. I've been playing guitar since I was 10 and it's a huge passion of mine.
-What goals would you like to achieve while working for Mercedes-Benz of Music City?
J: I'd love to become a CDT, to be a CDT (Centralized Diagnostic Technician) is the big dog of the technician world, the ones with all the answers, and the go-to person for solving the hardest problems.
-What's the greatest bit of advice a parent or mentor has given you?
J: Never give up! My father used to say that to me all the time.