James Dutton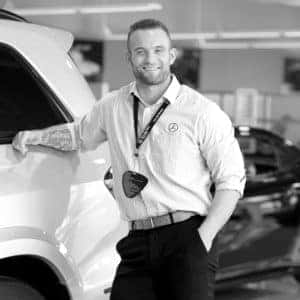 Happy Team Member Tuesday, friends!
Here at Mercedes-Benz of MC, we love having the opportunity to get to know our colleagues, who they are and what they're about.
That is why this series has been so successful and fun because, well, everyone has a unique story to tell. Today, we had a moment to catch up with one of our newest salesmen, James Dutton! Check out what James had to say…
-What's the most spontaneous thing you've ever done?
J: Signed up at random to be a mountain guide in British Columbia.
In a matter of weeks quit my job, sold my car and moved to Canada and practically lived out of a backpack for 3 months climbing 3 different treacherous mountains multiple times with people from all over the world and US.
-What movie or TV show do you think is most comparable to your life?
J: I think the TV Series FRIENDS is a good depiction of my life. I spend most of my free time with a big group of good friends doing all sorts of wild and fun things.
It's always a good time and always full of laughs.
-What's your idea of "relaxing"?
J: Oh man. Being with people you love doing what you love. You can become so refueled and recharged by being with "your people" and having quality time spent without any specific agenda except enjoying your time and loving people
-Who is someone you look up to and what have they shown/taught you?
J: My mentor and good friend Tyler Borders. He has shown me the worth of integrity, the necessity in surrender to Jesus, the richness of authentic relationship
and how to hope for everything that's next in life while being diligent to what's in front of you. He's my closest friend, greatest ally and strongest supporter.
#MBofMC #TeamMemberTuesday