Jacob Dies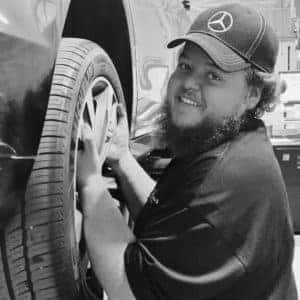 Today we had the privilege in learning a bit more about one of our newest technicians, Jacob! We're glad to have Jacob a part of the team and as a member of our MB of MC family! Happy Team Member Tuesday, everyone!
-What is your favorite sport to watch?
J: Drag racing. John Force racing is my favorite, they hold 22 championships in Top Fuel and Funny Car Dragster.

-What do you enjoy most about being a Mercedes-Benz technician?
J: I enjoy the atmosphere, and I've always enjoyed working on German cars because they make more sense than most other brands do!
-What do you enjoy doing when you're not at work?
J: I enjoy working on cars! I'm currently working on three cars in my garage that need new engines.
-What holiday are you looking forward to most and why?
J: Thanksgiving. It's nice having an excuse to eat whatever I want, as well as the opportunity to see my family that I don't see as often! Also, my birthday falls on Thanksgiving every 4 years.
-What dish do you look forward to most on Thanksgiving?
J: My grandmother's banana pudding, it can't be topped!