Geneva Wilkerson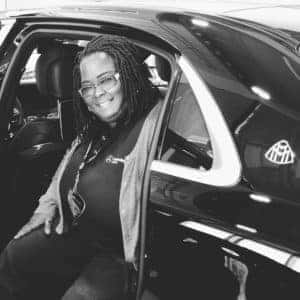 It's Team Member Tuesday again!
Today, we had the pleasure of interviewing Geneva "G" Wilkerson, who serves as our Parts Counter personnel.
Geneva has been the recipient of several of our MB of MC "Culture Coins!" She exemplifies and exudes some of the best characteristics of our culture has to offer!
Here are some of her responses to our questions…
-What's something you've been meaning to try but just haven't gotten around to it?
G: Take my babies on a Caribbean cruise vacation!
-Where would you spend all your time if you could?
G: My favorite place. Simply out on my porch, enjoying life.
-Among your friends or family, what are you famous for?
G: Speaking truth.
?
-What is a smell that can instantly take you back to childhood?
G: My grandma's gravy, rice, and beans. Yum!
-If you had unlimited funds to build/restore the car of your dreams, what would the finished car look like?
G: A 1962-64 Chevy Impala convertible, white on white. (Or black on black).