Emilio Valdivia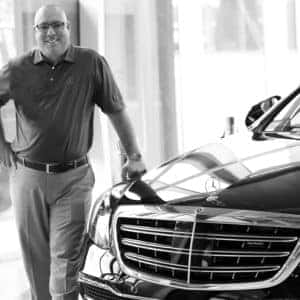 Who are the people at 734 Envious Lane?
Today, we had the pleasure of meeting with our Sales Advisor, Emilio Valdivia.
If you've worked with Emilio, you already know he's an all around easy-going guy… and he's great at what he does. We took the opportunity to get to know a bit more Emilio…
-Name a product or service you love so much that you'd happily be that company's spokesperson for. (Other than Mercedes-Benz)?
E: Guinness beer and Ben and Jerry's ice cream.
-What is something you enjoy doing after work?
E: Cooking and playing the guitar.
-Which historical figure(s) would you enjoy meeting the most?
E. Jesus, Henry the VIII, Dwight Eisenhower. In that order.
-Money and circumstances aside, where would be the most ideal place to retire?
E: One of the islands in British Columbia.
-Tell us about your history with Mercedes-Benz.
E: Mercedes Benz is the finest consumer product in the world and something that gives me a great deal of pride to be a part of.
I've been with the brand for over 11 years and can't imagine being anywhere else.