Eliud Mendez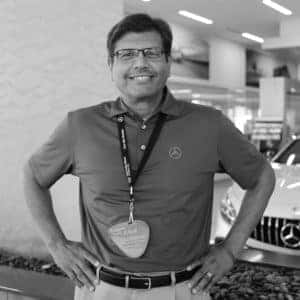 Happy Team Member Tuesday again! Today, we are featuring a member of our Sales Team, Eliud! Eliud moved to the area recently.
He said when he walked into Mercedes-Benz of Music City, it felt like home seeing the beautiful waterfalls. Then and there, he knew it was where he needed to be!
Thanks for being a great addition to the family!
-What is your favorite movie and what lesson has it taught you?
E: The Princess Bride… great story of perseverance and overcoming. Great laughs as well.
-What artist or band do you always recommend when someone asks for a music recommendation?
E: Earth Wind & Fire… They cover it all. I'm a child of the 70's, what can I say.
?
-What's the worst hairstyle you've ever had?
E: I'm always up for a challenge, and a while back I let my wife curl my hair… Lasted about a one embarrassing month.
-What good habit do you have now that you wish you started much earlier?
E: Ball room dancing … so I can keep up with my Mother in Law, who's in her 80's and goes dancing every weekend!
#TeamMemberTuesday #NashvilleTN #MercedesBenz