Devin Carlisle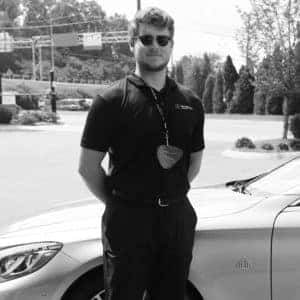 It's Team Member Tuesday again, and today we have the pleasure of meeting one of our valet members- Devin Carlisle!
-What's a goal that you look forward to accomplishing one day?
D: A goal that I look forward to accomplishing; would have to be graduating from nursing school and starting my career of serving and helping others.

-Where are some of your favorite spots you've ever traveled?
D: My absolute favorite spot I've ever visited would have to be Roatan, a beautiful island off the coast of Honduras.
It's warm atmosphere and clear waters are by far the best I've ever seen.
-What outdoor activity haven't you tried, but would like to?
D: The one outdoor activity I'm dying to give a shot would have to be climbing a mountain. A real mountain, not like the rolling hills here that we call mountains. I would love to climb Mt. McKinley.
-What's the silliest thing you've seen someone get upset about?
D: As of recent, one of the silliest things I've seen someone get mad about would have to be from my own home, my mother to be exact.
She was rather upset at me for getting out of the shower and getting the rug in the bathroom wet. Now to most this is no big deal, but to a mother- oh no, this is a crime!
Now of course I'm sure she has told me more than once not to, but I'm sorry mom I'm a creature of habit!
-What's your dream Mercedes-Benz?
D: My dream Benz would have to be a G 63 in diamond white, with tan interior.