Demarcus Williams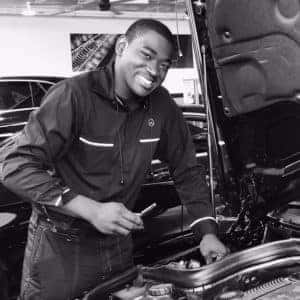 Happy Team Member Tuesday! Today, we had the opportunity to get to know Demarcus Williams, one of our Mercedes-Benz certified technicians!
-How do you plan to spend your 4th of July off?
D: I haven't really decided yet…
I'll probably end up hanging with some friends watch the fireworks show since it's the biggest in the country …and people-watch downtown!

-What's the most ridiculous thing you've ever bought?
D: I've bought some weird stuff in my long short life, but a few months ago I was at swap meet and bought some cologne made in 2001 that is in the shape of a old 70's Mustang.
I have no idea what it smells like.
-What's your "Back in my day, we…"?
D: I'm not even old enough to rent a car so there's no way I could even say " back in my day "
?
-What skill would you like to master?
D: I hope to "master" being a Mercedes Technician or even just a Technician in general. You can never really master anything, especially in this industry that's always growing and changing. Practice makes it better cause nobody's perfect.
#TeamMemberTuesday #MercedesBenz