Cody Bice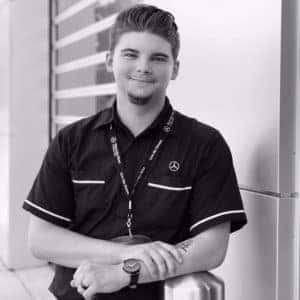 This week on Team Member Tuesday, we had the pleasure of getting to know a bit more about one of our Service Valets, Cody Bice!
– If you could have unlimited storage of one thing, what would it be?
C: That would definitely have to be all of the dream cars I plan to own.
If you gave me a month, I probably couldn't name them all, but you can bet there would be numerous amounts of Mercedes- AMG®'s on the list.
-As summer approaches, what are you most excited about?
C: Well, there's plenty to be excited about. Road trips to the beach, various amounts of car shows that don't happen in the winter…
But, I think I'm most excited about all of the classics that people are going to bring out of their garage to cruise around in and getting to see all the different things that people have had hidden away for the cold season.
-What is something that is really popular now that you think everyone will look back on and be embarrassed by?
C: Music has a big influence on our culture, and it also tends to define all of the fads that come in and out of style throughout the years.
So, I think some of the various dances that come along with these songs might be a little hard for people to stomach when they go back and look at them in the coming years.
-What is the coolest Mercedes-Benz you've seen pull in the Service Drive?
C: That's a really tough question. There's been so many fantastic cars that have come into our dealership, but I don't think I could really choose my favorite one.
Honestly, I think it would have to be between the classic SEL with the original 6.3 motor in it.
The SLS AMG® that we saw shortly after we opened, and the Renntech SLR that came in around the same time. I don't think I'll ever see another one of those cars again unless I'm super lucky.