Christine Sisson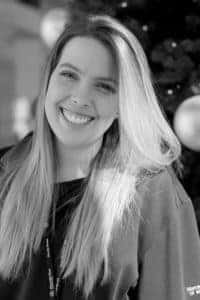 Who are the people at 734 Envious Lane?
December 13, 2017
On this week's Team Member feature, get to know Christine Sisson. Christine is our Executive Assistant and Event Coordinator from Tuscaloosa, Alabama.
If you could travel anywhere this month, where would you go and why?
-I would grab my family and we'd go to St. John USVI! I had some of the best vacations of my life in the Virgin Islands and I would do anything to go back (and to be warm – it is way too cold in Nashville for me!)
Any favorite Christmas/Holiday movies?
-How the Grinch Stole Christmas!! My sisters and I can quote it from beginning to end. When we were younger, we watched it every day (sometimes multiple times a day) from Halloween to New Years.
Since it's the gift-giving season, what's the coolest gift you've ever received?
-Right before my 16th birthday my entire family surprised me with my first car at our Christmas dinner! I was not expecting it at all and I don't think I got out of the drivers seat for the rest of the night!
Is there anything exciting that you're looking forward to doing in the coming weeks?
-I am taking a few trips for myself to visit my family and boyfriend. None of them live in Nashville so I am very much looking forward to spending part of the holiday season with all of the people I love!
Which Mercedes-Benz do you wish that Santa would bring you?!
-Without a single doubt I want a white AMG® GLE 63 S Coupe with porcelain and black interior! And I also wouldn't complain if there was a puppy in the car waiting for me as well
🙂 (hint hint, Santa!)