Christine Wolfe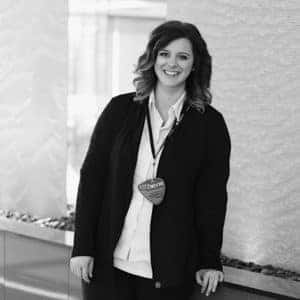 February 26th, 2018
Who are the people at 734 Envious Lane?
This week is featuring
Christine Wolf
, one of our Customer Care Center representatives here at Mercedes-Benz of Music City!
Whether you're walking in the front on a Saturday afternoon, or calling in for an appointment, Christine is always ready to greet you with a smile!
We had the opportunity to get to know a little bit more about Christine, on her end of the line…
-Considering that you're a Nashville Native… What is one "Nashville thing" you have yet to experience… but always wanted to?
C: I've always wanted to walk through the Parthenon and Country Music Hall of Fame.
I've seen inside the Parthenon, because during the summers growing up we always went to Big Band in the Park and would walk by and the doors to the Parthenon would be wide open,
so you could see Athena inside, but would like to see everything else. Country Music Hall of fame is the Nashville thing to do being Music city,
but I'm the typical native, I always know it's there so I think "one day I'll have time" ….I just have never have the time.
-I am fascinated by __________.
C: The Human body and how every single person is reacts and behaves differently. I thought about going into occupational/ physical therapy and it's crazy to think that we all start out as microscopic cells and become these complex diverse humans. How everything is connected and effects something else mentally and physically.
You could have neck pain or a headache, and through a series of connections it might be attributed to your gait, shape of your foot, and the direction they are facing.
I've spent a lot of time working in rehab and I've taken a few Psychology, Anatomy, and Physiology courses, and what I found is that the song is true, the foot bone through a string of bones, connective tissues, and nervous system it is connected to your head bone. (excuse me while I just nerd out for a moment through a series of connections)
-How do you spend your ideal day off?
C: When the weather is nice I like to be outdoors, whether that's kayaking, hiking, laying out by the pool, having a picnic in centennial park, or just sitting by the lake and feeding the ducks.
-If you could choose one noteworthy person to be friends with, who would it be and why?
C: Patty Griffin is probably the coolest person ever. Most people don't know who she is, but she's my favorite singer/songwriter you should look her up.
Just about every song she has written is sad, they can be slow or upbeat, but they all have soul.
She was also born on my birthday March 16th which I also think is cool. She leads a simple life and just does her own thing which I admire.
Plus she wears fabulous red high heals whenever she performs.
-Mercedes-Benz has taught me about…
C: Mercedes Benz has taught what "The Best or Nothing" slogan truly means. They have taken customer service to a whole new level.
They find out what the customer needs and deliver it to them and they try to always be a step ahead.
They help the community and fellow car makers by making their patens a dollar, because they can't give them away.
In each dealership they require to send employees to Brand Emersion to learn about the brand to show how Mercedes-Benz would like to "delight" their customers.
They teach how to go above and beyond that will not only put a smile on the customer's face, but then inevitably puts a smile on your face as the employee to give them the utmost promised service, " The Best or Nothing".
There you have it, folks! Thanks Christine Wolf for sitting down with us! #TheBestorNothing #MBofMC