Chas Kelly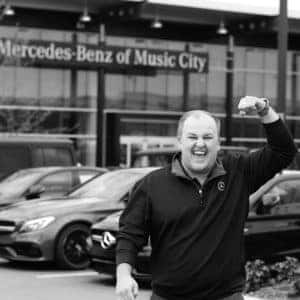 Who are the people at 734 Envious Lane?
This week on Team Member Tuesday, we'd like to introduce you to our newest C3 team member, Chas Kelly.
Even though he's the "new guy," he has lively, friendly personality which makes him easy to get to know. Today, we had the opportunity to learn a bit more about Chas…
– If you had to live in a different state, where would it be?
C: That's tough! I've lived in Louisiana, California, and now Tennessee…
I think I'd like moving back to northern California, but I'm really intrigued by Montana – it's such a beautiful state. It just seems like life is simpler and enjoyable there!
– Who is your favorite athlete?
C: I worked with ESP®N Radio for about two years here in Nashville, and Mike Fisher was my absolute favorite player to run into. Hands down.
Not only is he an incredible hockey player for the Nashville Predators, but he always has a smile on his face, loves his family,
and talks about the importance of being a team player , doing your best in everything and having respect for others and their work as well.
That's a true role model I can look up to, and I do.
– What's the worst thing you did as a kid?
C: When I was younger, my cousin and I would always compete and race my dad's jet skis on the lake back at home.
One day, I thought I'd be funny and spray water all over him, but ended up wrecking instead.
Luckily, neither one of us broke anything – but my dad nearly came unglued when he found out what I did! Needless to say, I was grounded for like a year.
– If you could build your dream Mercedes Benz, what would it look like?
C: I'm BIG on SUVs, and Mercedes-Benz happens to make the finest SUVs on the road. It would be an absolute dream to own an AMG® GLE 63 S Coupe.
It has to be Obsidian Black Metallic with Night Package, black AMG® wheels, and the Espresso Brown/Black Nappa leather interior. I would never want to drive any other vehicle ever again.
– Tell us about your experience with the Dream Motor Group.
C: I used to work for Dream Motor Group in Baton Rouge, Louisiana (Mercedes-Benz of Baton Rouge),
and that's where I learned that the love and commitment this company has for it's clientele is second to NONE.
It's ultimately what brought me back to the company here in Music City. In any job I do, I always go above and beyond the standard expectation.
At Mercedes-Benz of Music City, that mentality seems to be the STANDARD.
There's a sense of family here, as well as at all of our luxury retailers, that is unmatched. When you walk through our doors, the WOW factor is not only in the aesthetics of our facility,
— with Chas Kelly.