Celia Anzalone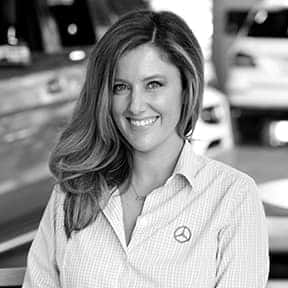 Who are the people at 734 Envious Lane?
Meet Celia, one of our finance managers here at MB of MC. We asked Celia a series of questions.
-Do you have a favorite holiday drink at Starbucks?
C: Call me basic, but Pumpkin Spice hands down!
-Have you seen any noteworthy celebs out and about in
Nashville? Any stories?
C: I've actually never recognized anyone famous out and
about, but I did a deal with one of the Nashville Predators last
week!
-If you could drive off the lot today in any of our cars in the showroom, which would it be?
C:A 2017 E 400 Cabriolet– selenite gray exterior and macchiato
beige interior
-What do you enjoy about being in Finance at MB of MC?
C: I've always loved working with numbers, but I am also an
extrovert and love working with and meeting new people. In this
career, I'm able to spend my hours doing both which really
helps to make the days fly by!
-Why should people buy from Mercedes-Benz of Music City?
C: The overall customer experience from the sale to their
service is why. Every customer I have had the pleasure of
meeting has left here smiling from ear to ear. From our beautiful
facility to our seemingly endless amenities, it's a dealership they
are going to want to come back to and visit. From the sales to
our service department, we all have our customer's happiness
and best interest at heart.