Brooke Penfield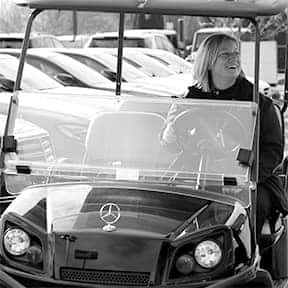 On this #TeamMemberTuesday meet our Inventory Control Specialist, Brooke Penfield!
If you've never seen Brooke, it's because she's busy roaming around in our golf cart to find specific cars or checking and filling our lot with cars!
She's a busy bee, but we had the opportunity to get to know Brooke a little bit better…
Brooke, tell us a little bit about yourself- (outside of the workplace)!
Brooke: Me and my wife are big animal lovers. We have 2 dogs right now. A Pomeranian named Rocki and a Saint Bernard mix named Ralphie.
How long have you been a part of the automotive industry?
Brooke: I have worked in the automotive industry for 5 years.
I have a background in several different makes; however, I am very happy to be a part of such a great team at such a great brand.
What was your favorite gift you received on Christmas Day?
Brooke: *states without skipping a beat* A karaoke microphone!
Do you have any special plans for New Years Eve?
Brooke: First New Years with my wife (no specific plans)!
What do you enjoy most about being on the Inventory Team at MB of MC?
Brooke: I'm a problem solver and this position allows me to help the sales team with any problems.
Which Mercedes-Benz have you enjoyed driving the most?
Brooke: I enjoy convertibles the most! If I had to pick, I'd choose the C 63 Cabriolet.