Brian Moseman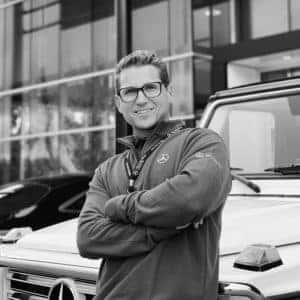 Another Happy *but rainy* Team Member Tuesday!
Today, we had the pleasure of getting to know our newest member of our finance team, Brian Moseman!
-Do you have any pets?
B: Yes. I have a 4 year old Goldendoodle named Abby, but she's more of a child than a pet.
-What is your favorite way to spend days off in Nashville?
B: A good day off is spent on one of the lakes here.
-What do you enjoy about being a Finance Director?
B: I love the fact I get to meet so many interesting people. It's also great when you assist someone in realizing their dream of owning an iconic brand like Mercedes-Benz.
-What is your dream Mercedes-Benz?
B: Mercedes-AMG® S 63 Coupe! Hands down.
#TeamMemberTuesday #MBofMCCulture