Brian Badger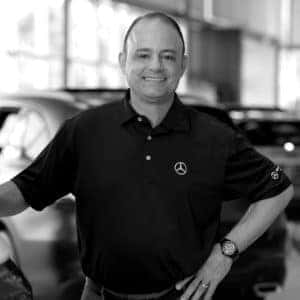 It's our favorite day of the week… Team Member Tuesday!
Everyone meet Brian Badger, one of our Finance Managers here at Mercedes-Benz of Music City!
Brian has been with Mercedes-Benz for quite some time, and he knows all the in's and out's of what additional products/services you need when purchasing your next Benz…
We got to know this huge Vandy fan for a moment today…
-What music did your parents raise you on?… What music did you raise your children on?
B: I'm a Nashville native and my wife moved to Music City to be a songwriter, so music and the impact it can make is near and dear to my heart.
My taste in styles is eclectic, including rock, country, r&b, and jazz. Years ago I worked in the Christian music industry, and we had various musical styles with faith-filled lyrics.
Our two teenagers have a great appreciation for music because they've been raised on all of the above!
-Who is someone you can count on to make your day better?
B: There's no doubt that my wife Suzanne is the one person who always provides the love and encouragement I need to get thru each day.
Today also happens to be our 25th wedding anniversary. I can honestly say that I can't imagine anything better than sharing my life with her!
-What is a job you'd be terrible at?
B: Starting at an early age I was good with numbers, so my mom thought I should be an accountant.
While I was attending Vanderbilt I spent two summers selling books door-to-door for Southwestern and caught the sales bug.
I realized then that I enjoyed working directly with people too much to work in accounting. Being a Finance Manager allows me the best of both worlds,
as I love helping clients decide if they should lease or purchase, and what coverage products best meet their needs. I guess you could say I'm living the dream!
-What is it about Mercedes-Benz that makes it stand out from its competitors?
B: I began with the brand 20 years ago in Houston, and this is the third Mercedes-Benz store I've worked in.
I've always been impressed by the fit, finish, and superior quality that is part of every vehicle they make.
But I leased my first one in 2001 primarily because I wanted our young daughter to be in the safest car in the world. I've worked for other brands,
but none that caters to client's needs the way Mercedes-Benz does. I truly believe that if you spend a little time at Mercedes-Benz of Music City you'll discover that the best or nothing isn't just a slogan!