Brandon Bull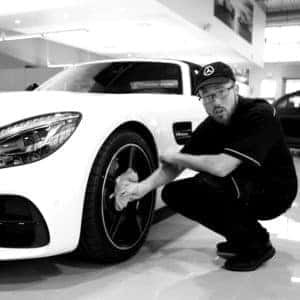 February 20, 2018
Happy Team Member Tuesday!
If your Benz is in need for some TLC, let the MB of MC detail team get your Mercedes-Benz all cleaned up and confident on the road again!
Brandon, one of our detail team experts, agreed in doing a brief interview with us…
-What's one thing you enjoy doing that you wish you were better at?
B: It would definitely be drawing, as I used to draw all the time in school and I really enjoyed it.
-When it's nice weather outside, you'll find me…
B: You'll find me either on the water with friends or in the streets stunt-riding motorcycles with my buddies.
-My life would be incomplete without ____!
B: My life would be incomplete without chicken! I eat chicken almost every day- wings are the best! 
?
-Is there anyone who contributes to your aspirations or inspires you?
B: As far as inspirations go, I would definitely have to say my grandfather. He was a good, kind-hearted man who would help anyone from anywhere!
He would give them the shirt off of his back if he had to. If I could just be half of the man that he was- I would accomplish something great in life.
-What is the most fulfilling part about being a member of the Detail team?
B: The most fulfilling part of my job is seeing the reaction on our customers' face, or getting feedback that we made their car look brand new again- I love that feeling!
#MBofMC #TeamMemberTuesday