Beatrix Mohsenin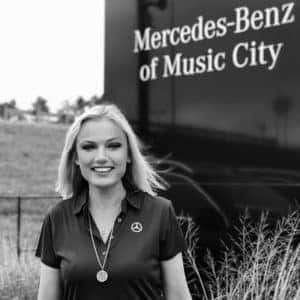 Everyone, meet Beatrix aka "Bea"! Bea is one of our newest sales associates at Mercedes-Benz of Music City.
Bea has been with the brand for quite some time, and we are proud to call her a part of the family. As a German-American, Bea shares great pride in Mercedes-Benz…
Today we had the opportunity today to get to know her a bit better and why she supports Mercedes-Benz so much…
-What are some small things that make your day better?
B: Starbucks coffee and early morning walks with my dogs. I love to run, inhaling the peace and beauty of nature while listening to my fav. music.
Smiles make me smile. I am a total positive energy junkie.
-What is something you think everyone should do at least once in their lives?
B: Do what you think you cannot do and then watch all of heaven back you up.
-What's the most interesting place you've ever lived?
B: Oh, that's a tough one. I grew up in Germany, lived in England, Canada and then immigrated to the US.
I have lived in quiet, tucked away little towns and buzzing big cities like San Francisco and New York…
However, the most interesting was and still is Nashville. I'll never forget when I first arrived and could not wait to see real life cowboys, but then found so much more here.
It is a city of southern charm and hospitality, music, movies and incredible growth.
-What gives Mercedes-Benz the right to claim "The Best or Nothing"?
The undying quest and relentless pursuit of perfection.
Mercedes-Benz is born with the DNA of innovation. It is inherit in everything they do.
They never rest, and they continue to invent, perfect and build their cars with utter attention to detail, commitment to quality and most of all an undying commitment to safety.
-What inspired you to go into sales at Mercedes-Benz?
In Germany, we take pride in perfection- especially in cars and in soccer- so it felt like home but the reason why I like selling Mercedes-Benz is the utter safety of their cars.
I know without a shadow of doubt that my customers will be protected and will be in the safest car built in this place of time. It is said that a Mercedes-Benz was built to give its life for you.