Bajram and Sefer Zeca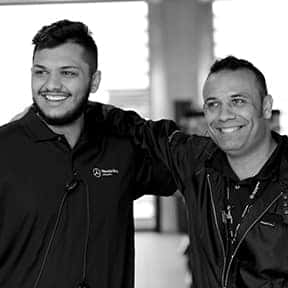 November 7th, 2017
This week's installement features two of our Valet Team members- Bajram and Sefer Zeca! This father and son pair will assist you during your service appointment. We asked them a few questions:
-What is your favorite meal that your dad cooks for you?
Bajram: Mac and Cheese.
-Which one of you is likely to own a Mercedes-Benz first?
Bajram: My dad owns one. So him, sadly.
Sefer: Hahaha! I win!

-Can you guess each others' dream Mercedes-Benz?
Bajram: E 300 4matic
Sefer: C 300

-Did you guess right?
Bajram: We both guessed right!

-What is your favorite thing about working with each other?
Bajram: Free lunch every day. (He pays!)
😉
Sefer: I love being around my son and talking cars together! #mbofmc #TeamMemberTuesdays