Arlon McPherson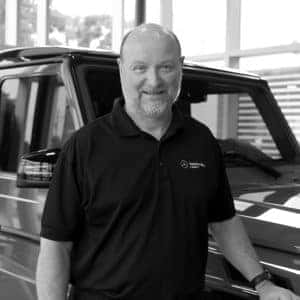 #TeamMemberTuesday
It's not every day that we get a chance to just chat with our managers because they're busy people.
However, today we had the opportunity to get to know our Parts Manager, Arlon!
Check out what he had to say!
-In your opinion, who are the 3 greatest musicians of all time?
A: Dickie Betts from the Allman Brothers / Charlie Daniels/ Paul McCartney.
-Which TV family is most like your own?
A: The Bunkers from "All in the Family"
-What is one movie you never tire from watching?
A: "The Patriot" with Mel Gibson and John Wayne movies.
-What is your favorite day of the week?
A: Wednesday because it's Huuuuummmmp Daaay!
-What invention doesn't get a lot of love, but has greatly improved the world?
A: The zip tie and velcro.
-What Mercedes-Benz is your favorite?
A: SLS